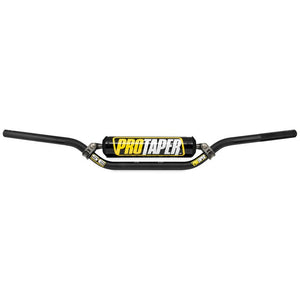 ProTaper SE Motorcycle Aluminum Handlebar 7/8th Inch - Motocross
Regular price $69.99 $59.99 Sale
ProTaper 7/8th Inch Diameter Handlebar
The SE bar is ProTaper's 7/8th inch diameter handlebar designed for riders who still prefer the feel and stability of a cross bar. Trasnworld Motocross magazine says "The Pro Taper SE bar has set the new standard for 7/8ths aluminum handlebars." and gave them a perfect "10" score!
Made from 5mm proprietary, 2000 series T6 aluminum alloy
Cross bar made from cold forged aluminum
High tech, stress relieved, shot peen and anodized finish for unmatched durability
Left side knurling provides maximum grip traction
Chemically applied graphics are scratch and peel resistant
End plugs help keep the elements out of the handlebar tubing and aid in longer grip life.